Power Rankings #27: Brooklyn Nets
photo courtesy of nba.com
The Brooklyn Nets are finally out of the deep, dark despair from the Boston Celtic trade package of 2014. Before we dive into the outlook of their season, let's take a moment to congratulate Brooklyn on being so patient during these trying times.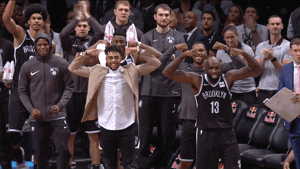 Brooklyn finished the year last season with a 28-54 record and found themselves in the lottery yet again. Sadly for the Nets, they didn't see that lottery pick. The same can be said about their 2017 lottery pick. Or their 2016 lottery pick. Or their 2015 15th pick. Or their 2014 17th overall pick. It's been a long few years for Nets fans. Those picks have turned into James Young, Jaylen Brown, and Jason Tatum for the Celtics, Kelly Oubre Jr. for the Hawks (who was traded to the Wizards on draft night), and this past summer the Cavaliers selected Colin Sexton with what was the Brooklyn pick. Let's not dwell on that though. Let it live in the past. This is a new era for Brooklyn. They have D'Angelo Russell back healthy who is a former #2 overall pick in 2015, they own their picks for the first time in 5 draft classes, and still have Jay-Z has a part owner which is pretty cool.
Nets fans still have waiting to do however until we start seeing a winning team in Brooklyn. This of course assumes that Jimmy Butler will not be traded to Brooklyn this season. If Jimmy gets traded to the Nets please do not point back to this article when the Nets finish in the playoffs as a way to say I predicted something wrong.
Brooklyn will most likely finish similarly this year as they did last year. They didn't make any noteworthy changes in their roster, coaching staff, or front office so there isn't much reason to believe they'll see great progress. Russell is really the only piece on the team that you can argue has starting potential on a winning team. With Brooklyn finally having their own draft ricks, they can actually lose and have a sense of knowing it's for a greater cause. In previous years, the only good that came for the Nets in losing was that they were one game closer to the end of a miserable season. Well those days are over Brooklyn. Your loses have purposes now.